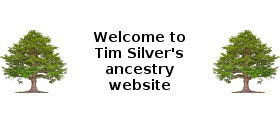 (One branch [with twigs] of the SILVER tree)
Main family names being researched:
More distant, but still significant, ancestor surnames:
Anderson; Baldwin; Brewer; Chamberlain; Church; Clifford; Comfort; Drew; Fricker; Frith; Gains; Gray; Greenham; Groves; Harmes; Hooker; Howard; Hunt; Johnson; Knight; Nash; Nicholls; Randall; Reed; Sawney; Simms; Tagg (Tegg); Watts; White; Wicks; Wooderson; Young
Just some of the many 'extended family' surnames:
Abbotts; Aldridge; Alexander; Allen; Ayres; Bacon; Baker; Barksfield; Barlow; Bates; Berisford; Blackman; Blackmore; Brench; Bristow (Bristowe); Bumby; Bushnell; Calcutt; Carpenter; Chalke; Chapman; Chatfield Clargo; Coker; Coleshill; Collins; Crawford; Crook; Cuddihy; Davies; Dawes; Day; Dennett; Docker; Douglas; Drew; Druce; Dunk; Dyer; Earl; Eaton; Eggleton; Emms; Erridge; Fairs; Feimmer; Fennymore; Ford; Frampton; Freeman; Fry; Fryer; Gadd; Gale; Geater; Gibbons; Giddings; Girdler; Goddard; Goldswain; Goodenough; Greenaway; Groves; Guile; Hale; Hancock; Hankinson; Harmsworth; Harris; Hazell; Hearn; Hellhouse; Henwood; Hill; Hoblyn; Hollely; Horwood; Hughes; Hutton; Ireland; Ive; Ives; Jakeman; Jerray-Silver; Johns; Jones; Keen; Keep; Kersley; Kidder; Kimble; King; Kok-Alblas; Kybert; Lambden; Laney (Leaney, Leany); Lawford; Letch; Levy; Line; Litchfield; Lovell; Lymposs; MacKinney; Maggs; Mansfield; Maplethorpe; Margetts; Mayers; Merritt; Micklewright; Mockridge; Morris; Mudge; Newland; Newport; Nightingale; North; Ollivier; Orsler; Ostler; Page; Parish; Peaty; Penn; Perry; Pither; Plumridge; Pope; Pottinger; Poulter; Preater; Pym; Quilly (Quilley); Rackley; Rayner; Roberts; Rose; Sage; Scuffle (Schofield); Sharp; Shearman; Shurvall (Shurvell, Shurvill); Simmons; Small; Smart; Smith; Smythe; Sone; Southby; Spinks; Starbuck; Staveley; Strange; Stanton; Taylor; Thatcher; Tidmarsh; Toogood; Trimmer; Tubb; Turk; Tuson; Ubsdell; Venner; Wakefield; Waterton; Watkins; Wells; White; Whitehouse; Wicks; Williams; Willoughby; Wingrove; Woodhouse; Woodley; Worley; Young
Main counties of interest:
Significant, but more distant counties of interest:
Kent; Oxfordshire; Somerset; Sussex; Wiltshire
Even after 15+ years of 'digging', this family history site is still very much 'work in progress'. Clicking on any of the above links will take you to 'static' web pages that I've so far produced (manually). If you're looking for my interactive database, click to browse as a guest alternatively, login or request a new user account. Due to a stupid error on my part (I didn't pay sufficient notice to a 'warning' message!) I knackered the database back in Jan '17. However, after 13 months of hard, long & tedious work it's back and working so I thought I'd re-vamp the site in an attempt to make the static pages 'mobile friendly'.. and here it is!
Anyway, about this site...
I had never been particularly interested in knowing about my heritage - I knew I was English - enough said! However, while sorting through my late mothers papers (a moment of nostalgia with my sister), I paused and properly read some of the old documents that, previously, I had only quickly 'scanned'. The first that caught my eye was a lovely letter. It was a 'character reference', written for my paternal grandfather (Wilfred Silver), by his CO, on Wilfred's discharge from the 6th Armoured Car Company, Bareilly, India, October 1922. Along with this letter and other documents & photos, was the original certificate of my great-grandparents (Albert Edward Hyman & Phoebe Knight) marriage (1895 and very 'dog-eared'). And after that, I found a telegram from the directors of the Linoleum Company, Staines (Albert's former employer) to Albert, congratulating him on his 90th birthday - 25 years after he'd retired! Well, that did it! I caught the bug, the bug bit & the search was on - and is very much 'on-going'.
Oh, to put a wise head on young shoulders! I knew Albert - I was fifteen when he died and the number of times I'd sat at his feet when I was a child - and never once did I ask him about his time with the Duke of Cornwall's Light Infantry in 1891 (but I didn't know, then, that he was in the DCLI in 1891!).
Also fascinating are the 'links' that can be discovered (when the brain-cells are working). The 1901 census gives Albert's occupation as a 'colour mixer' at the Linoleum Factory, Staines; as was one Herbert Richard Andrews. Herbert's son, Richard, married Albert's daughter, Mary - my maternal grandparents. I wonder how they met?
Obtaining copies of BMDs (birth, marriage & death certificates) is a slow process (well it is for me at £7 a go [that was 2009, it's currently £9.25]) but is progressing. So far there have been no surprises; no links to fame or fortune - a few illegitimate children (my mother included by all accounts), several visits to the 'workhouse' and a hint of 'in-breeding' (actually a couple of 1st cousin marriages - which I had always believed to be illegal, but apparently, it isn't). By and large, my ancestors were Ag. Labs. (agricultural labourers); a few other trades/occupations have come to light - thatcher, gamekeeper, ganger, lengthman, platelayer, general dealer (??) - but it is my belief that, by and large, they were the 'salt of the earth'. On the female side, they were mainly domestic servants until they married, although there were a couple of lace-makers.
I've produced descendant reports for the main family names which can be viewed by clicking on the name (they open in a new tab) - Rebecca Andrews (b.1811) | John Hyman (b.1738) | Thomas Meads (b.1730) | John Silver (b.1725).
This site is more than just a repository for the information that I have gathered. This is also a collaborative site where, having registered, you will be able to enter/edit your own relations and help build this family tree. Like the rest of this site, the database is also very much a 'work-in-progress' - I only created it June '08!
And before you start getting excited and click to enter/register, no, I'm not the famed Australian photographer/artist, nor the American medical practitioner from Virginia or, for that matter, the IT specialist at Royal Holloway, University London. I'm Tim Silver - an ordinary 'Brit' (who also happened to work in IT) with an interest in his heritage!
Following this link will take you to a page commemorating all in this tree known to have fallen in either world war. Please note: the 'Commemoration' page is not suitable for any device with a screen smaller than 10" (normal iPad size [not mini]).
Oh! By the way, I've also created a page detailing some of the many fine pubs I've discovered while 'researching' the places my ancestors came from. Here it is - hope you find it useful!
Tim Silver
Please use these links to either browse as a guest or login / request a new user account.
Anyone may view the data at "public level" - however, for reasons of privacy & security, details of living persons are hidden from unregistered visitors. Registered users have greater access - though ONLY family and relatives (but no matter how distant) will be granted registration. NO details of LIVING people are shown to anyone, other than registered users who have logged-in. Note to new users - the welcome page does not automatically recognise you, so treats you like a guest until you login.
PS - Webtrees does not have the most intuitive interface, but 'dive-in' and explore the menus (you'll not do any harm to the MySql database) - and run the reports. And if you've any queries, send me an E-mail (if you don't have my E-mail address, please use the link at the bottom of the 'Welcome Page' - not putting a 'mailto' link here reduces the amount of spam I receive).