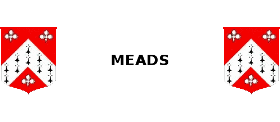 A potted history
The Meads enter my ancestry with the marriage of my paternal grandparents Wilfred Silver & Winifred May Meads. Although there are no famous (or infamous) individuals in this particular line, I have had really good luck in seeking this branch of my lineage by tracing it back to a Thomas Meads born c.1730. However, despite my best efforts, I've not been able to track down any close, living, Meads relatives!
The parish of Medmenham, though broad in the south, is mainly a north/south aligned area tapering off and terminating at Chisbridge Cross. The locations of the 'Meads' in the mid 1800's, 'Wood End' and 'Holly Wicks', are in the northern part of the parish.
From the mid 1700's to sometime between 1871-1881, my line of Meads' were 'ag. labs.' in Buckinghamshire - indeed, there were three consecutive generations of Meads (George [1813], his son, William [1842] and his son Walter [1873] - my gt. grandfather) being born and living in Medmenham. Then my 2x gt. grandfather William Meads became a gamekeeper, as did his son, my great grandfather Walter Meads. Then came my grandmother so the story continues down a different line. Medmenham is a hamlet about 3 miles south west of Marlow in Buckinghamshire. Today, it's only assets (other than the beauty of the place) are a small, simple, church and a very nice pub. The church (St. Peter & St. Paul) is twelfth century while the Dog & Badger is 14th century; well kept real ale and good food at a reasonable price (2010 - I've enjoyed several pints and meals there).
Starting with my 6x gt. grandfather Thomas Meads. I know nothing about this chap other than his name on the baptism record of his son, Thomas. I'm guessing he was born c.1730 and at some point he married a girl called Mary and they had an unknown number of children - but they had a son called Thomas.
My 5x gt. grandfather, Thomas Meads, born 1757, at least, he was baptised 17 Oct 1757 in Cookham. Thomas married Hannah Church on 20 Jul 1778 in Cookham but by 1785 they had moved to Hambleden. Thomas & Hannah had 10 children. Their fifth child was George Meads. Thomas died 02 Jan 1844 aged 87.
My 4x gt. grandfather, George Meads. He was born c. 1785 in Hambleden, Buckinghamshire but had moved to Medmenham by 1841. In 1810 he married Esther Gray. They had a total of 13 children, of whom at least four didn't survive their first year (two of them were twin boys - one lived for 4 days and the other 12 days). George & Esther's fourth child was George Meads. George died 1845 aged 59.
My 3x gt. grandfather, George Meads was born 05 Dec 1813 and baptised 02 Jan 1814 in Medmenham. This George married Emma Baldwin. Their fourth child (of six children) was William Meads. George died 1873 aged 59.
William Meads, my 2x gt. grandfather, was born 09 Sep 1842 in Medmenham. This is the chap who broke from the ag. lab. tradition and became a gamekeeper. William married Fanny Baldwin 24 Dec 1866. William & Fanny's fourth child, Walter Meads, who was my gt. grandfather. William died 1909 aged 66.
Walter Meads was born 17 Apr 1873 in Medmenham. Walter was one of twelve children and like his father, was also a gamekeeper. Walter married Louisa Tagg (a most difficult family to trace). They had two children but only my paternal grandmother, Winfred May survived but her sibling didn't (courtsey of the new question posed in the 1911 census). Walter died 1951 aged 78.
Winfred May born 14 Dec 1897 in Bray. Winifred married Wilfred Silver - my paternal grandparents. They only had one child, my father, James Wilfred Silver.
For a complete descendant report for Thomas Meads, click here
ENTYMOLOGY:
Meads
This interesting surname recorded as Mead, Meade, Medd, and the patronymic Meads, has two distinct origins. The first and most likely, being an English topographical name from residence, in or by a meadow. The derivation is from the old English pre 7th Century word "moed", the later medieval "mede", meaning a meadow. The second possibility is that the name originated as a metonymic occupational name for a brewer or seller of "Mead" - a fermented beverage made from honey and water, often with spices added, which was a popular drink of the Middle Ages. ©Genes Reunited