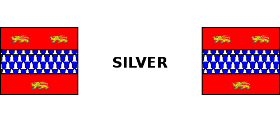 A potted history
There are no famous (or infamous) individuals in this particular line. The earliest Silver I've found, with any degree of confidence, is a John Silver born c.1725. I was greatly ammused when I discovered this individual - Long John Silver! (Well, no - he was not the model for Stephenson's 'hero', but the earliest John Silver in my direct ancestral line). Having, as a joke, repeatedly told my children that their many times gt. grandfather was Long John Silver - well, that may have been his nickname.
From the late 1700's (and most likely, well before) to around the mid 1870's, my Silver ancestors were 'ag. labs.' in & around the Winchfield area of Hampshire. Then, with the success of the London & South West Railway company's goods traffic, an opportunity seems to have been seized which resulted in one branch of Silvers (my gt. grandfather) leaving Winchfield, Hampshire for Feltham, Middlesex; not a huge move, but over the years, we've lost touch with the Hampshire lot (they don't seem to exist in the Hartley Wintney area anymore). Although my Silvers lived primarily in Hartley Wintney / Winchfield, they almost all got married at All Saints Church in Odiham. I think I know why; there's a very nice pub directly opposite - The Bell Inn, good beer & good food; not gourmet, but wholesome. I had ham, egg & chips - really good. All locally sourced - free range eggs, the most tender & tasty ham and proper, home-made chips. Now, I'm not suggesting that deep-fried chips were common in the 1800's, but I bet the ham and eggs were pretty much the same. [and I believe it didn't survive the 'pandemic'] But I digress.
So, starting with the chap I believe to be my 6x gt. grandfather John Silver (who will always be 'Long John Silver' to me). I know nothing about this chap other than his name which was on the baptism record of his son, John. His year of birth is just a guess and I have no real idea where he was born [probably Basingstoke]. At some point he married a girl called Anne and they had an unknown number of children but they did have a son, John Silver
John Silver, my 5x gt. grandfather. Born c.1755 (baptised 07 Mar 1755 in Basingstoke) he married one Mary Champion 19 Nov 1774 in Odiham. They had two children, a son and a daughter. Of course, my pedigree lies with their son, John.
My 4x gt. grandfather John Silver (yes, the 3rd John Silver in a row!). Believed to be born in Winchfield c.1776. He was most likely an ag. lab. (most of his decendents were). He married Hannah Howard in 1796. They were the parents of Thomas. John died 10 March 1847 aged 74 of 'Affection of the Bladder'.
My 3x gt. grandfather Thomas Silver, born c.1797 (baptised 5 March 1797) in Winchfield, was probably an ag. lag. through & through. In the 1841 census he's down as a 'farmer of six acres' although subsequently he's only an ag. lab. in '51 thru '71 census'; six acres, that would have been just about enough land to survive - some sheep, a couple of pigs and a cow perhaps, an acre of grass for hay and maybe one or two acres of wheat (who knows?). Thomas married one Mary Gains. This union lead to Oliver. Thomas died 01 Jun 1882 aged 85 of old age.
Oliver Silver born c.1830 (baptised 04 April 1830) in Winchfield. Oliver is also an ag. lab. (the last one in my line - two of his sons 'break-out'). In most of the census returns, Oliver gives his occupation as an ag. lab. However, in 1881 he says he's a Thatcher (didn't seem to last long though). Oliver married Jane Hooker 22 Oct 1853 in Odiham. Oliver & Jane had eleven children. Their first-born was James Thomas. Oliver died 22 Aug 1908 aged 78 of Epithelioma of Lip Exhaustion.
James Thomas Silver born 05 Mar 1854 in Odiham. In the 1871 census, James Thomas is 17 and an ag. lab. However, by 1881 James, along with his younger brother, William, are both 'railway labourers'. This is the break from working on the land - now it's going to be 'railway' for him and the following 2 generations. James started on the railway as a labourer; this most likely meant that he was earning about 30-40% more than an Ag. Lab. - about 19 shillings a week. By the time of his marriage in 1884 he was a plate-layer, as he was in the '91 census. By 1901 he's a ganger - a foreman. Sometime between 1901-1911, James & family moved (lock, stock & barrel) from Winchfield, Hampshire to Feltham, Middlesex (The L&SWR, his employer, were building a Marshalling Yard there); I like to think that James 'hung around' in Winchfield to look after his elderly father and then made the move after his death in 1908. James married his cousin, Ellen Sophia Baldwin (1863-1921), on 26 Jan 1884 in Odiham and they had nine children. Their 8th child was my paternal grandfather, Wilfred. James died 22 Mar 1925 aged 71 from a Cerebral Heamorrhage.
**As I slowly expand my tree sideways, it is becoming clear that James and his brother were not the only Silver's working on the railway in the late nineteenth century. So were quite a few of their cousins.
Wilfred Silver born 27 Nov 1898 in Winchfield. Oh, grandad Pop - a quiet and caring man. The discovery of his 'reference', written for him by his CO on his discharge from the 6th Armoured Car Company, Bareilly, India, October 1922, was one of the key documents that started me on my 'quest'. In 1915, Wilfred lied about his age in order to enlist (initially) in the Royal Fusiliers, aged just 16. He was transferred twice - first of all to the Machine Gun Corps (1916) and subsequently (1921) to the Tank Corps. Wilfred enlisted for 7 years, not just for the 'duration', and served in Salonika (where he contracted Malaria), Russia, Iraq (referred to then as Mesopotamia) and India. [I have a romantic notion that Wilfred was 'gung-ho' at the start of the war, but became tired of killing, hence ending up as an armoured car driver.] On leaving the army, Wilfred followed in his fathers footsteps and worked on the railway until his untimely death in 1962 from lung cancer. If you look at his 'media' tag there's a picture of him with his son (left) and me aged 9, leaning on his leg - just some six weeks before his death. Wilfred married Winifred May Meads (1897-1981) 11 Sep 1924 in Staines and they only had one child, James Wilfred.
James Wilfred Silver born 11 Mar 1925 in Ashford, Middlesex. If you want an example of a good & honest man, look no further. By the age of 15 James, like his father & grandfather, was also a railway employee (junior porter). He joined the Royal Marines as soon as he could in 1943 (as soon as he was 18, before his call-up papers had been received - he really wanted to be a Marine) and served his time as an anti-aircraft gunner aboard HMS Venerable in the far east, where he helped liberate a Japanese controlled, allied POW camp. After the war, (while in the Royal Marine Naval Reserve) James returned to work for the railway. In May 1963, while employed as station foreman at Staines Railway station, he showed his courage when he risked his life to save a woman from under a train, close to live electric rails. James also spent some ten years as a special constable. James Wilfred died 15 Dec 2008 from blood poisening due to a perforated ulcer. James married Nancy Andrews (1926-2004) 24 May 1947 in Ashford. They had two children; my sister Jacqueline Ann and me, Timothy James (and I'm pleased to be able to say that this Silver tree has a further two potential branches via my two sons).
ENTYMOLOGY:
Silver
Recorded in many forms including Silber, Silbermann, Silver, Silvers, Silverman, Silvermann, Zylberman, Zylberdik, and Silversmid, this surname is mainly English, Scottish, German, and Hebrew. Of pre 7th century origins, it has at least three distinct possible sources. Firstly it may be a metonymic occupational name for a silversmith, the derivation being from the Anglo-Saxon word "seolfar" meaning silver. Secondly it may originate as a nickname for a rich man, one who had a lot of silver and thirdly it may be locational from places on watersides where the water itself gave a silvery appearance. ©Genes Reunited